04 février 2019
Mise en vente d'un objet de ma collection : Funko Pop Star Wars - Luke Skywalker with X-Wing Exclusive - Neuf
Voir et aller directement à l'annonce ebay.
Pièce incontournable des rayons Lego, le X-wing mérite aussi d'être dans votre propre collection "petites briques" ou bien Star-Wars.
Le set 75218 X-Wing Starfighter, sorti fin 2018, est donc le dernier né de la lignée des T-65, commencée en 1999 avec la référence 7140. Ses autres grands frères sont les sets 6212 de 2006 et 9493 de 2012. Je mets de côté les deux versions UCS (7191/2000 - 10240/2013) et les variantes cousines T-70 des sets 75102 Poe's X-Wing Fighter (2015) et 75149 Resistance X-Wing Fighter (2016).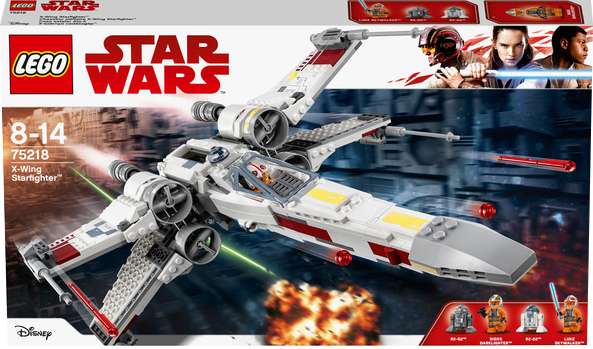 La boite au design classique aux couleurs rouges de la dernière trilogie, contient 730 pièces. La particularité la plus notable est la disparition de la molette placée, selon les versions, au dessus ou à l'arrière du chasseur et qui permettait de déployer les ailes. Les designers on trouvé un nouveau mécanisme qui certes, semble un peu brutal, mais reste efficace et devient plus discret.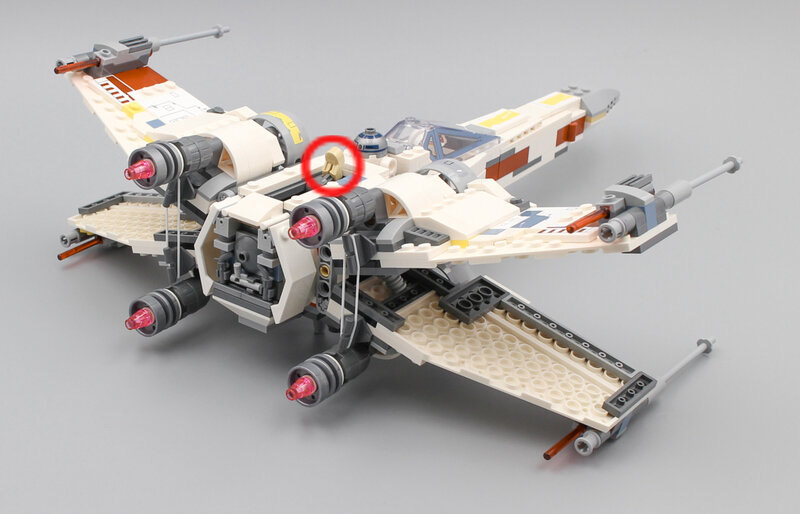 Cette version est la première que je n'achèterai pas, non pas en raison de sa qualité, mais parceque j'ai décidé d'arrêter ma collection "X-wing" pour passer à autre chose. Alors, plutôt que de faire un long post et un copier/collé des informations glanées ici où là, je vous invite à lire le test Hoth Bricks qui me semble très bien résumer l'esprit de cette production Lego.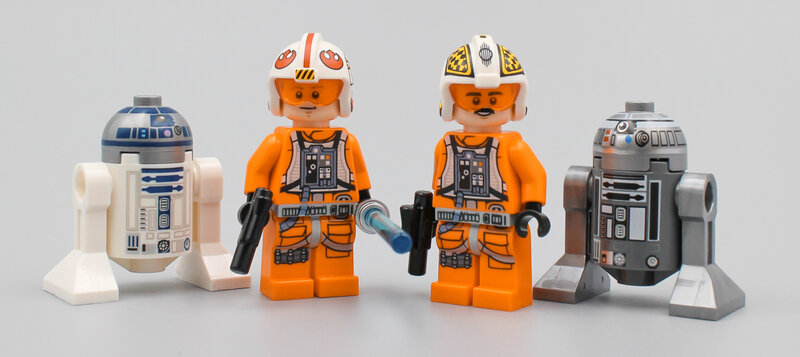 Alors c'est vrai, vous aurez la possibilité de choisir la décoration Luke Skywalker (Red Five) ou Biggs Darklighter (Red Three), chacun avec son droïd respectif, mais pour ma part, je pense que le prix de base de ce X-Wing, 99,99 €uros, est un peu élevé, surtout si vous possédez déjà une ou deux autres variantes.
01 février 2019
Le T-85 X-wing était un modèle ultime de nouvelle génération du chasseur T-70, utilisé par la flotte de défense de la Nouvelle République trois décennies après la bataille d'Endor.
The T-85 X-wing was an ultimate next-generation model of the T-70 fighter used by the New Republic's defense fleet three decades after the Battle of Endor.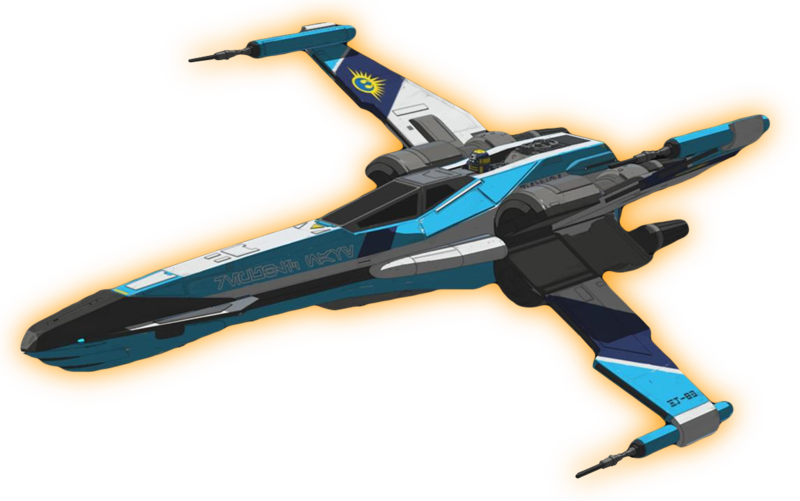 Les T-85 ont été affectés à la nouvelle flotte de défense de la République dont le commandant était Poe Dameron avant que celui-ci ne soit recruté par la résistance. Lorsque le Premier Ordre détruisit le système hosnien avec la base Starkiller, (34 ABY), l'ensemble des escadres de T-85 de la République a été détruite, laissant la place au T-70.
The T-85s were assigned to the new defense fleet of the Republic whose commander was Poe Dameron before he was recruited by the resistance. When the First Order destroyed the Hosnian System with the Starkiller base (34 ABY), all the T-85 squadrons of the Republic were destroyed.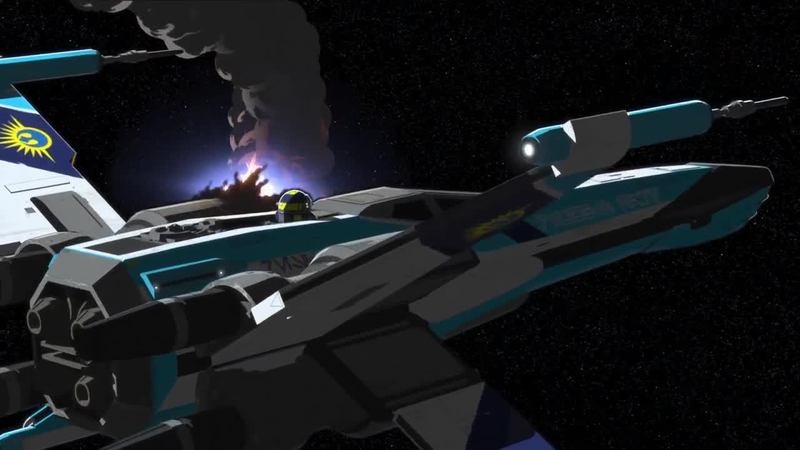 Le T-85 apparaît pour la première fois dans le roman Before the Awakening en 2015, écrit par Greg Rucka. Il est également mentionné dans l'édition augmentée Star Wars, Le dernier Jedi, mais on le voit dans Star Wars Resistance - "The Recruit". "La recrue" est un épisode en deux parties de la série animée Star Wars Resistance.
The T-85 is named for the first time in the novel Before the Awakening in 2015, written by Greg Rucka. It is also mentioned in the augmented Star Wars edition : The Last Jedi. The T-85 appears in Star Wars Resistance - "The Recruit.", a two part episode of the animated series Star Wars Resistance.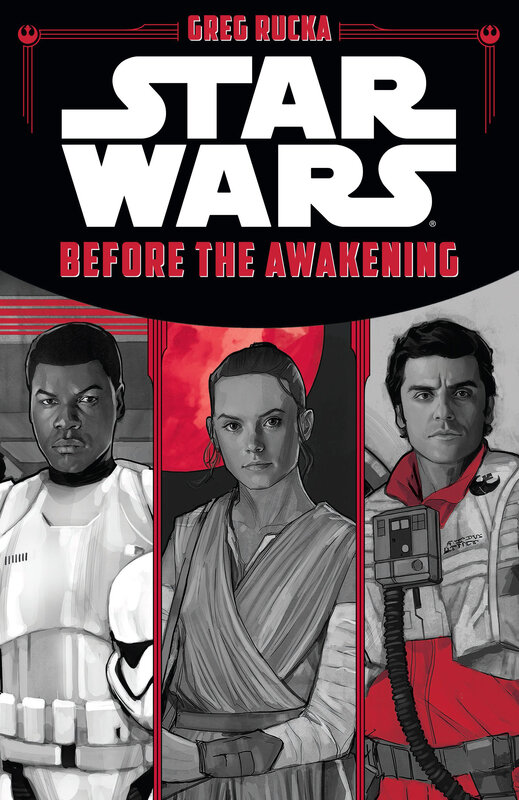 15 juin 2018
Ce n'est pas un X-wing T-65 ou T-70, mais il a quatre petites ailes mobiles en X, on doit donc le considérer comme, certes un mini X-wing, mais un X-wing quand même.
Lego Star Wars Magazine, (En Français), propose en cadeau pour ce trimestre estival, une édition limitée du Quad Jumper, ce véhicule aperçu dans Le retour de la Force quand Rey et Finn tentent de s'échapper, avant d'opter pour le Millenium Falcon, le tas de ferraille.
Bien entendu pour 5,90 €, cette petite version peut difficilement tenir la comparaison avec le modèle 75178 que connaissent déjà les fans de Lego Star Wars, bien que cela soit cette version que l'on retrouve dans la petite histoire narrée dans les pages du magazine. Mais on ne leur en tiendra pas rigueur.
Que la Force soit avec vous. May the Force be with you.
30 mai 2018
Au delà des séries Hot Wheels Star Wars que nous connaissons tous bien, il existe une série Elite bien intéressante pour les collectionneurs. Beyond the Star Wars Hot Wheels series that we all know, there is an Elite series very interesting for collectors.
Livré dans une magnifique boite noire et un emballage très soigné, votre X-wing T-65 pourra se décliner en version au sol, avec train d'atterrissage, ou en vol sur son support. Delivered in a beautiful black box and a very neat packaging, your X-wing T-65 can be declined in version on the ground with landing gear, or in flight with its support.
Le support transparent est du type à rotule, afin de vous permettre de changer son inclinaison en vol à votre convenance. Thanks to an adjustable inclination bracket system, the inclination of the X-wing can be adjusted to easily.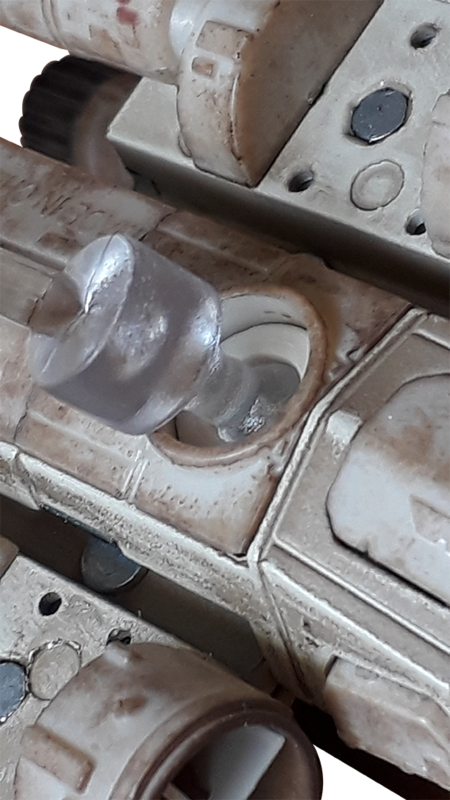 Si vous choisissez de le présenter au sol, vous trouverez les patins d'atterrissage qui se fixent à l'aide d'un aimant, ainsi que la trappe qui se substitue au point de fixation du support. If you choose to present the model on the ground, you will find the skid gears which are fixed by a magnet, as well as the hatch which replaces the attachment point of the support.
En vol, les trappes fermées se fixent de la même manière. In flight, the closed hatches are fixed in the same way.
Ce modèle Die Cast est de qualité par sa taille et ses finitions. L'habitacle s'ouvre ainsi que les ailes. Elles sont munies d'aimants pour rester bien collées entre elles quand elles sont refermées. This Die Cast model is of quality by its size and its finishes. The cockpit opens as well as the wings. They are provided with magnets, to stay well together when they are closed.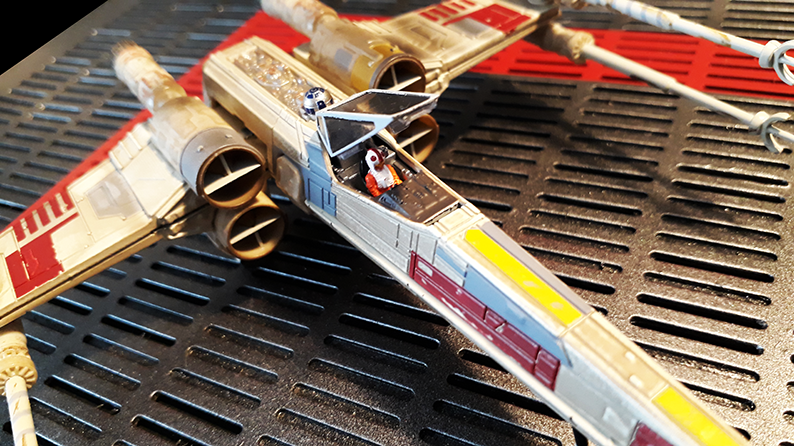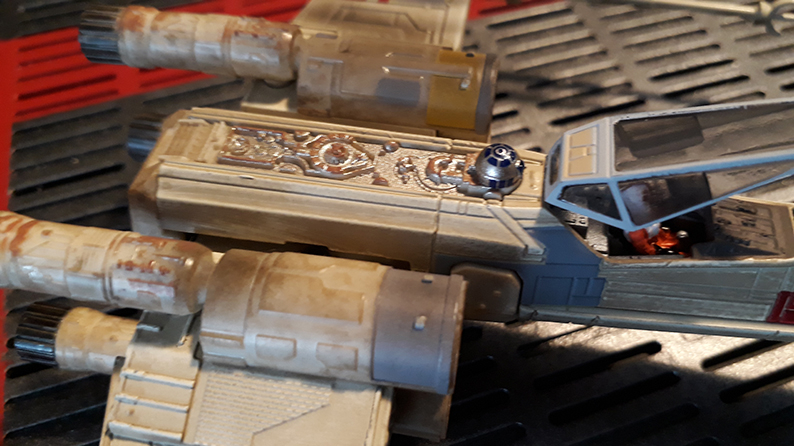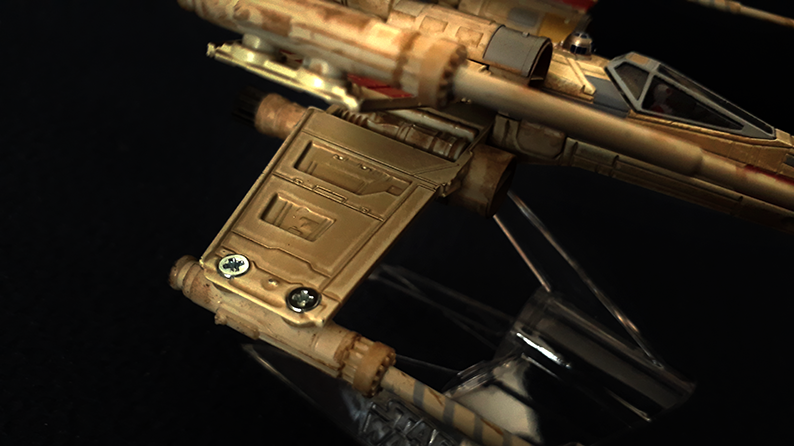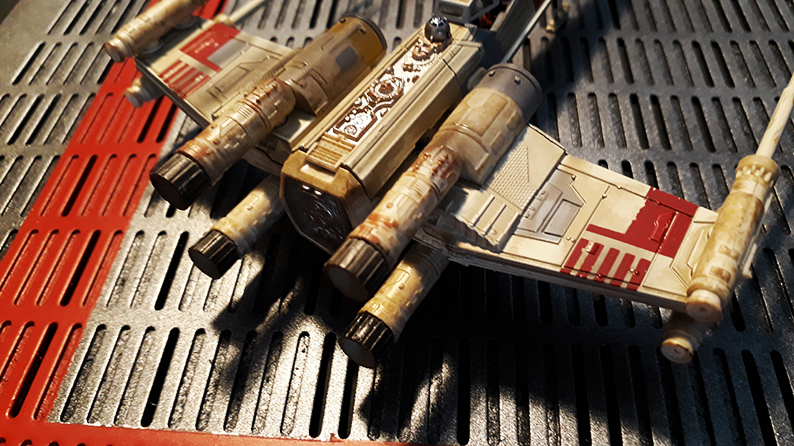 Ce modèle T-65 Elite est d'une taille bien supérieure aux habituels X-wings Hot Wheels Die Cast. This T-65 Elite model is much larger than the standard X-wings Die Cast Hot Wheels.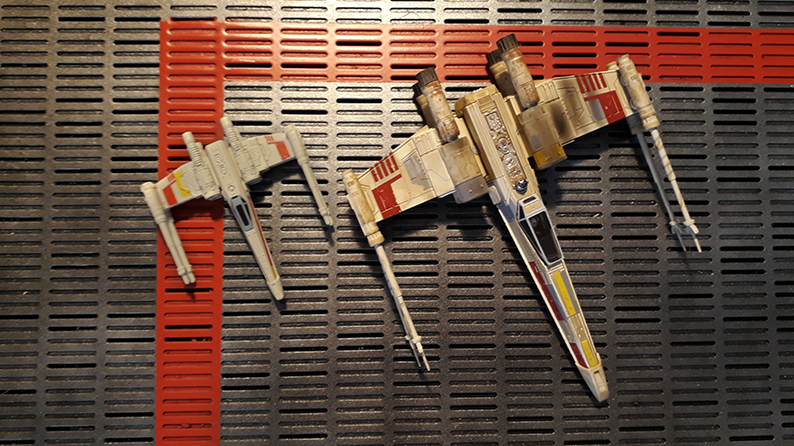 À gauche le modèle Elite, au centre le Disney Store et à droite la maquette (en cours) Fine Molds au 1/72. Left Elite model, center Disney Store model and right model (in progress) Fine Molds 1/72.
Que la Force soit avec vous. May the Force be with you.