18 novembre 2017
En 1991, disparaissait Kenner, une marque glorieuse de la saga Star Wars, au profit de Hasbro. Au fil des ans, le géant du jouet américain, nous proposa plusieurs versions de grands X-wings jusqu'en 2012 où se présenta la version Red 3 dans la collection Vintage.
In 1991 Hasbro bought Kenner, glorious company of the saga Star Wars. Over the years, the giant American toy compagny proposed several versions of large X-wings until 2012 with the Red 3 version in the Vintage Collection.
On trouve donc des grands X-wings dans les collections, Power of the Force en 1997, sur lequel figure encore le logo Kenner.
So we find great X-wings like Power of the Force version in 1997. The Kenner logo still appears on the box.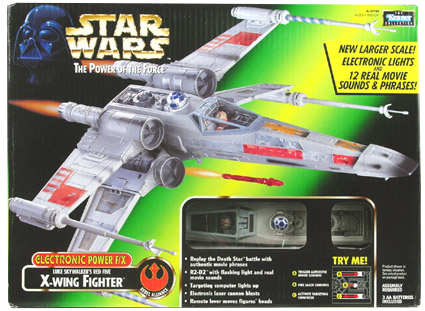 Puis dans / then in, The Star Wars Saga, The Original Trilogy Collection, The Shadow of the Dark Side, The Legacy Collection ...
... enfin en 2012, avec The Vintage Collection. Une boite qui porte les deux logos, Kenner et Hasbro.
... at last in 2012, with The Vintage Collection. A box that bears the two corporate identities, Kenner and Hasbro.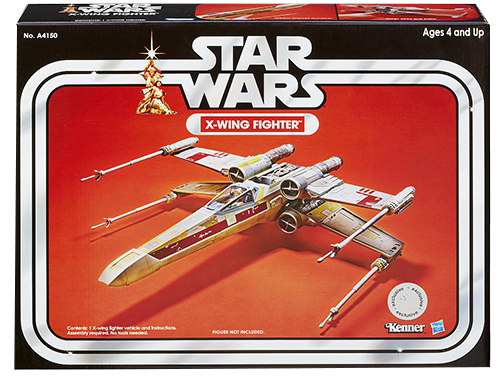 Au fil du temps, nous avons donc eu plusieurs versions du chasseur de Luke (Red 5), celui du leader Garven Dreis, la version Red 2 de Wedge Antilles, et enfin celui de Biggs Darklighter (Red 3). Manquent les numéros 4 de John D. Branon et 6 de Jek T. Porkins. Peut-être un jour les verrons nous ? En attendant, il faut faire confiance aux fans et maquettistes pour nous les proposer.
Over time, we have had several versions of the spacefighter Luke (Red 5), the leader Garven Dreis, the Red 2 version of Wedge Antilles, and the Biggs Darklighter's Red 3. Numbers 4 John D. Branon and 6 Jek T. Porkins are missing in the red squadron. Maybe someday will we see them? In the meantime, we must trust the fans to make them us.
C'est ce qu'a fait Laurent. Le modèle de base étant donc le Vintage Collection.
That's what Laurent did with the Vintage Collection for template.
Mais le mieux est de laisser l'auteur de ces transformations se présenter, et nous présenter son travail.
Laurent explains his work.
"Enfant, j'ai beaucoup joué avec les personnages et les vaisseaux Kenner. Après avoir délaissé cet univers pendant des années, j'ai recommencé à collectionner vaisseaux et figurines à l'époque de la série Vintage. Pour moi la plus belle série jamais sortie. Ayant par ailleurs été maquettiste (customisations de voitures au 1/43, avions, figurines de jeu de rôles), je me suis amusé à modifier certains modèles Kenner Hasbro. J'ai ainsi repeint un Snowspeeder aux couleurs de celui de Wedge Antilles, j'ai amélioré le X-Wing Red 2, recréé Red Leader à partir d'un modèle Red 2, et peint deux X-Wings Vintage Collection aux couleurs de Red 4 et Red 6.
"When I was a child, I played with Kenner characters and vehicles. I abandoned this universe for a few years, then I began to collect them with the Vintage series. The most beautiful series ever released. Model maker, I transformed some models Kenner Hasbro like the Wedge Antilles Snowspeeder. I improved the X-Wing Red 2, and recreated Red Leader from a Red 2 model. And I painted the Red 4 and Red 6 from The Vintage Collection that you see here."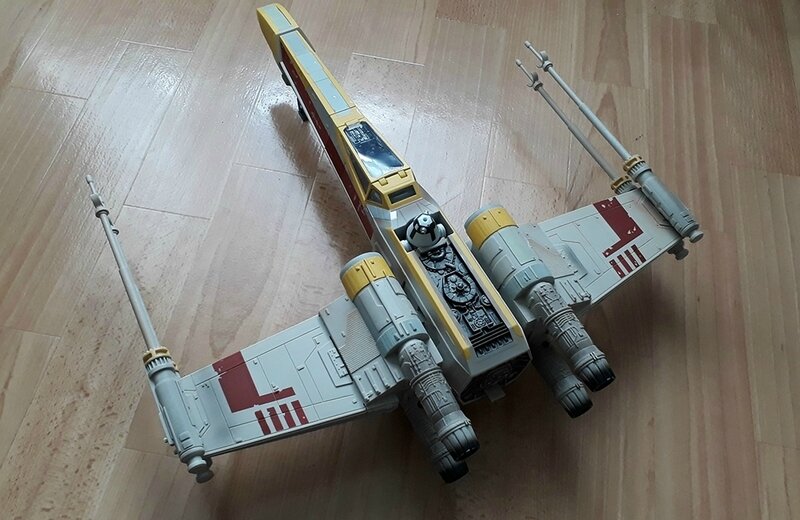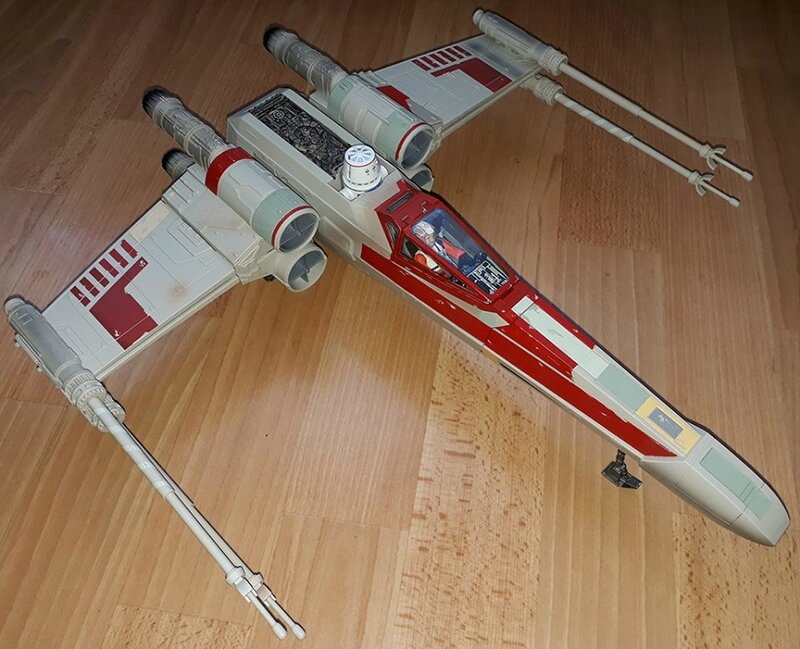 "Pour la documentation, j'ai fouiné sur internet, et je me suis inspiré de ce que j'ai trouvé, notamment de photos des maquettes originelles utilisées dans le film. Côté technique je peins les détails au pinceau (peintures Tamiya), les plus grande surfaces avec des aérosols Tamiya, et après divers ponçages et lavis, je vernis le tout à la bombe Gunze (vernis mat). Sur les modèles présentés ici, j'ai délibérément conservé un aspect un peu "jouet", en n'accentuant pas trop le côté réaliste (salissures, etc.), afin que ces X-Wings soient "raccords" avec les modèles Kenner Hasbro, notamment le Red 3 Vintage Collection et bien sûr le Red 5 du coffret Death Star Trench Run."
"I searched the documentation on the internet, notably photos of the original models used in the movies. I paint the details with a brush (Tamiya paints), the biggest surfaces with Tamiya spray, and after various sanding and wash drawing, I use a matt varnish Gunze. For models presented, I kept the look of a toy, without the realistic side. So these X-Wing have a look like the Kenner Hasbro models, including the Red 3 Vintage Collection and of course the Red 5 box Death Star Trench Run."
"Il m'arrive de me séparer de certains modèles (manque de place !), et c'est ainsi que Redwill a acquis Red 4 et Red 6."
"Sometimes I leave some models for lack of space, and that's how Redwill acquired Red 4 and Red 6. "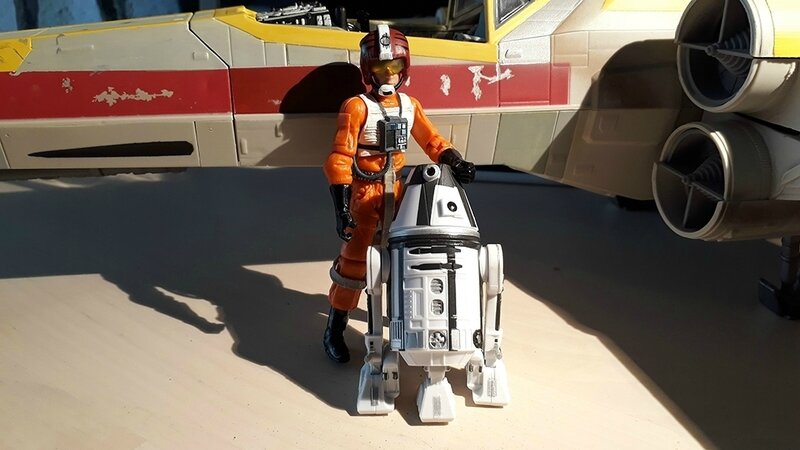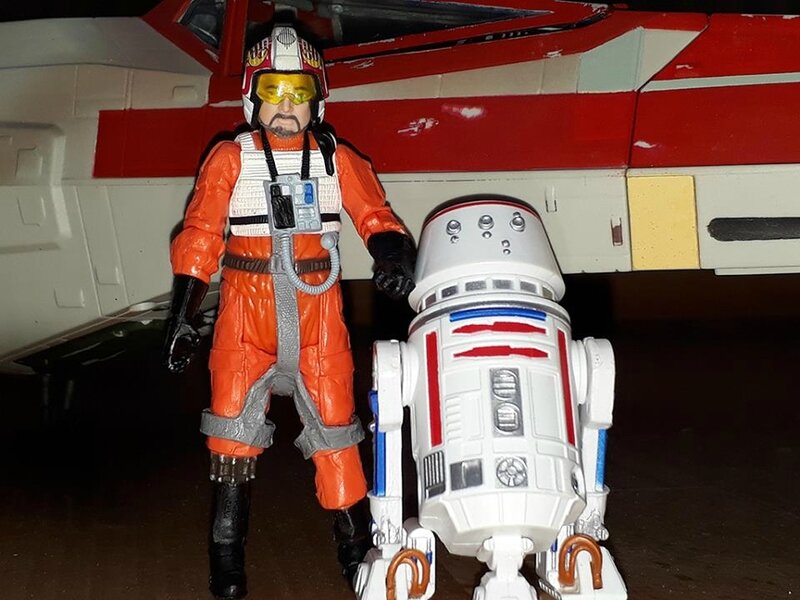 "Mon prochain projet, même si je ne sais pas encore quand j'aurai le temps de le réaliser, sera le Partisan X-Wing des Cavern Angels de Saw Gerrera, que l'on aperçoit furtivement dans Rogue One, sur une base de X-Wing Kenner Hasbro bien sûr ! "
"My next project, even if I do not know when I'll have the time to do it, will be Saw Gerrera's Partisan X-Wing, which we sneak into the Cavern Angels in Rogue One. It will be painted from a X -Wing Kenner Hasbro of course! "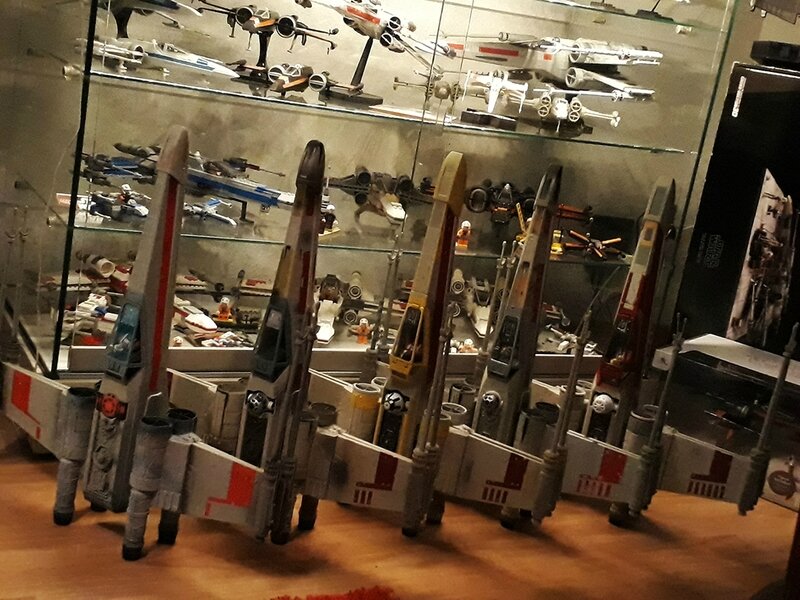 Que la Force soit avec vous. May the Force be with You.
16 novembre 2017
Une nouveauté chez Revell ? Pas vraiment. On reprend une boite existante, on ajoute un détail, c'est très facile. A new model Revell? Not really. Add a detail on an current box, it's very easy.
Je ne vais pas perdre de temps aujourd'hui, sinon pour signaler ce nouvel emballage d'une maquette à destination des plus jeunes maquettistes. Tout est dit. Merci Revell. I will not waste time today, except to report this new packaging for the youngest. That's all. Thank you Revell.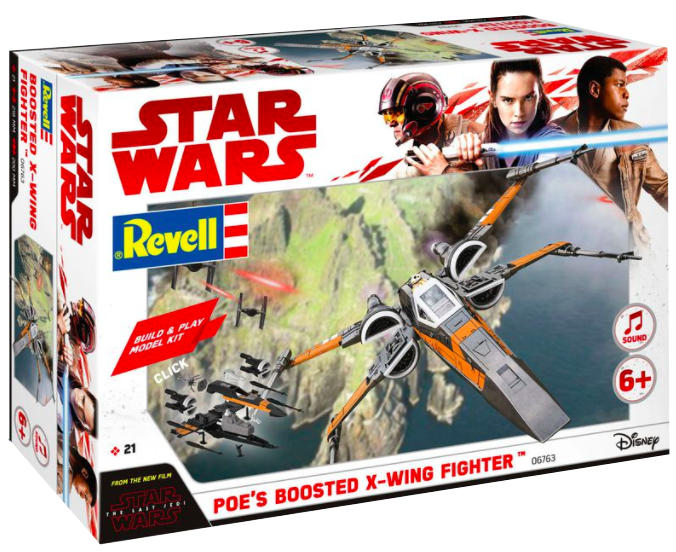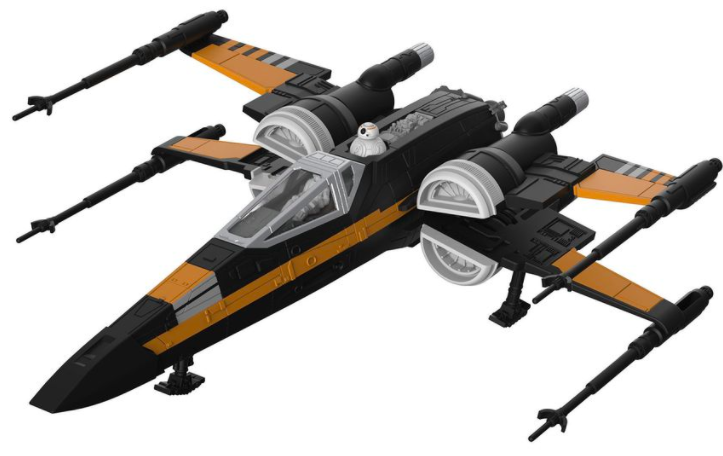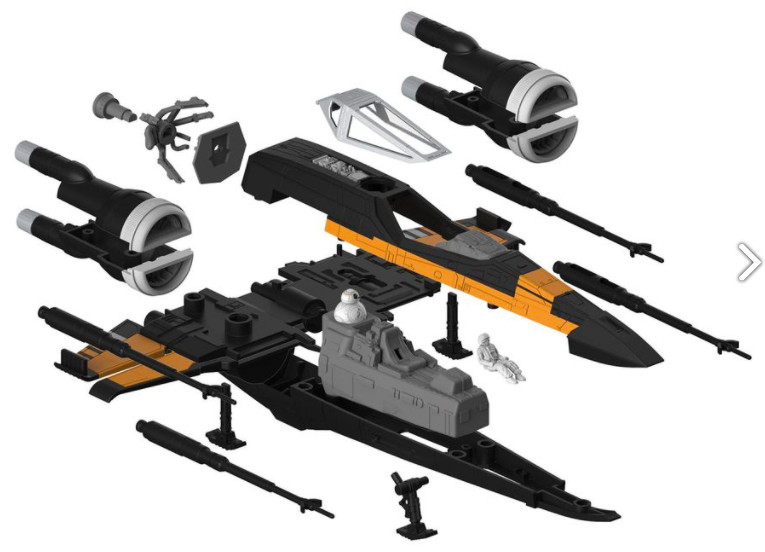 Ah si j'oubliais, il y a un beau dessin. Oh yes, I forgot, there is a beautiful drawing.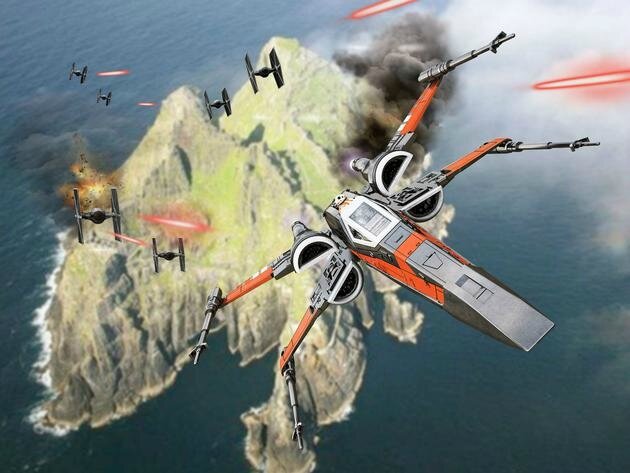 Que la farce, Force soit avec vous. May the fake, Force be with you.
13 novembre 2017
Voilà c'est fait, le Blog du X-wing est associé à une page Facebook. The X-wing Blog is now on Facebook.

À bientôt. Que la Force soit avec vous ! See you soon. May the Force be with You !
08 novembre 2017
Voici mon nouveau X-wing, le N°171 de ma collection personnelle. Il s'agit d'un nouveau produit vendu exclusivement dans les boutiques Disney. Une version boostée du X-wing personnel de Poe Dameron (Spoiler). My new X-wing, the number 171 of my personal collection. This is a new product sold exclusively in Disney stores. A boosted version of the Poe Dameron's X-wing (Spoiler)
Vendue avec une figurine articulée de Poe Dameron, qui rentre parfaitement dans son cockpit, ce X-wing de 30 cm est assez bien fait pour son prix de vente de 26,00 € sur la boutique en ligne Disney. Sold with an articulated figure of Poe Dameron, which fits perfectly in its cockpit, this X-wing of 30 cm is quite well done for its price of sale of 19,95 $ on the Disney online store.
La particularité de ce modèle est le moteur supplémentaire qui .... (Spoiler). The characteristic of this model is the additional engine that .... (Spoiler).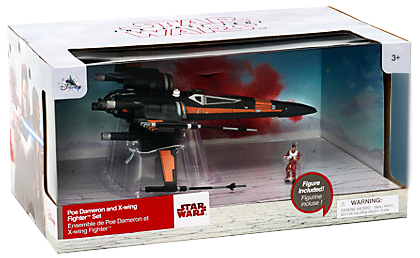 Il est présenté dans une très belle boite aux nouvelles couleurs Star Wars Disney. It is shown in a beautiful box with new Disney Star Wars colors
Que la Force soit avec vous ! May the Force be with You !
Pour la troisième année consécutive, après les opérations marketing autour du Réveil de la Force et de Rogue One, le groupe E.Leclerc récidive pour la sortie de Les derniers Jedi. For the third consecutive year, after the marketing campaigns around The Force Awakens and Rogue One, the french group E.Leclerc start again for the release of The Last Jedi.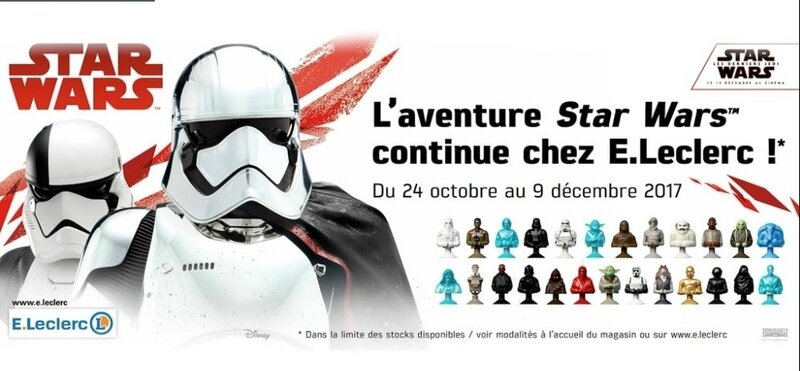 Du 24 octobre au 9 décembre, l'opération vous permettra de collectionner 25 figurines MicroPopz Star Wars. Elles sont données par tranche de 30 € d'achats, ou l' achat d'un produit partenaire. Il faut dire qu'ils ont mis le paquet question décoration, avec des Stormtroopers et de beaux X-wings... sauf que :
From October 24 to December 9, the operation will allow you to collect 25 Star Wars MicroPopz miniatures. They are given per € 30 of purchases, or the purchase of a partner product. It must be said that they made a beautiful decoration with Stormtroopers and X-wings ... except that: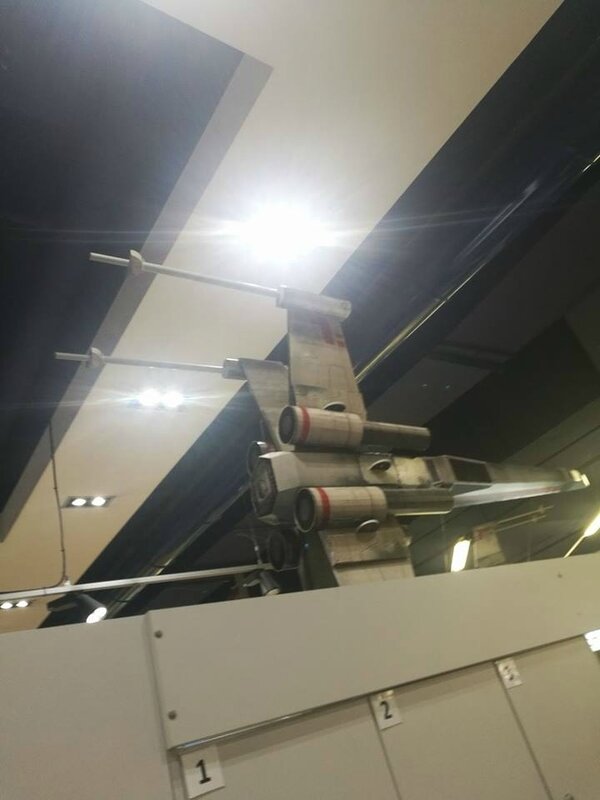 Y a t-il des fans Star Trek ;-) chez E.Leclerc Rivétoile (Strasbourg, Alsace, France) où a été prise cette photo ?(Merci Shani et Lucas pour la photo). Are there any Star Trek fans ;-) at E.Leclerc Rivétoile (Strasbourg, Alsace, France) where this picture was taken ? (Thanks Shani and Lucas for the photo).