11 avril 2017
Je vous propose aujourd'hui quelques belles images de X-wing. Today I offer you some beautiful pictures of X-wing.

Celles-ci proviennent du magnifique livre Rogue One, A Star wars Story. Il n'y a pas beaucoup de X-wing Fighters, mais elles valent le coup d'œil. Je vous invite à l'acheter si vous êtes fan de ce genre de publication. These are from the beautiful book Rogue One, A Star Wars Story. There are not many X-wing Fighters, but they are worth a look. I invite you to buy it if you are a fan of this kind of publication.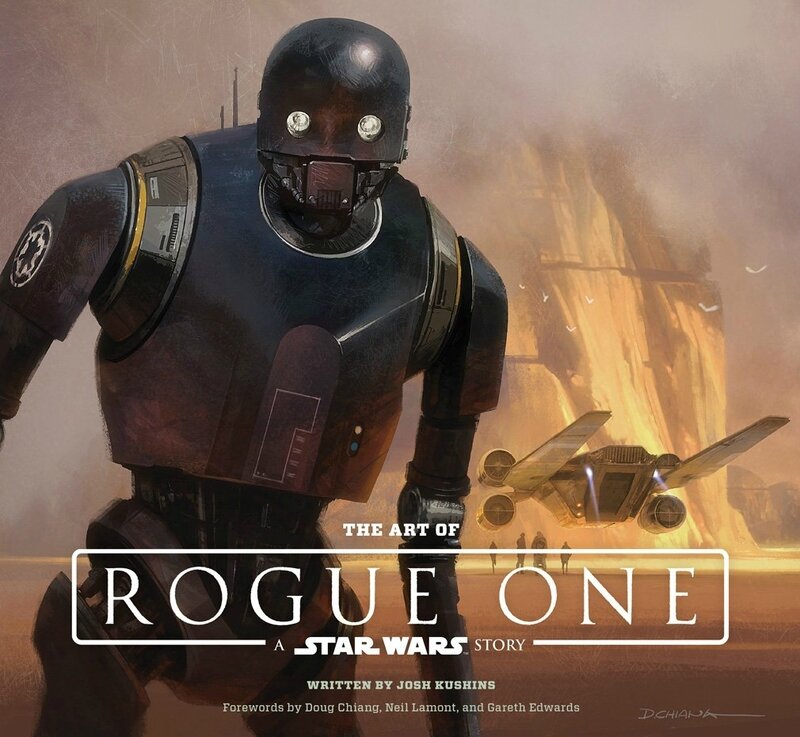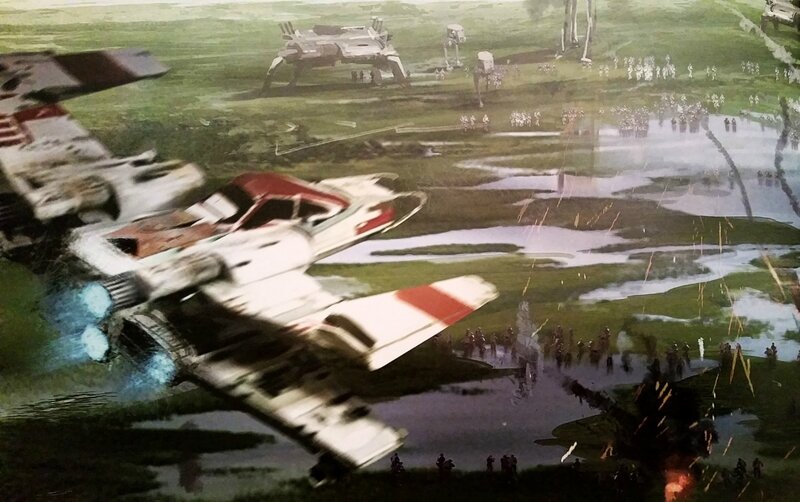 Ryan Church
Notez le design particulier de ce X-wing. Peut-être un concept de ce que devrait être un Partisan. Note the particular design of this X-wing. May be a concept of what a Partisan should be.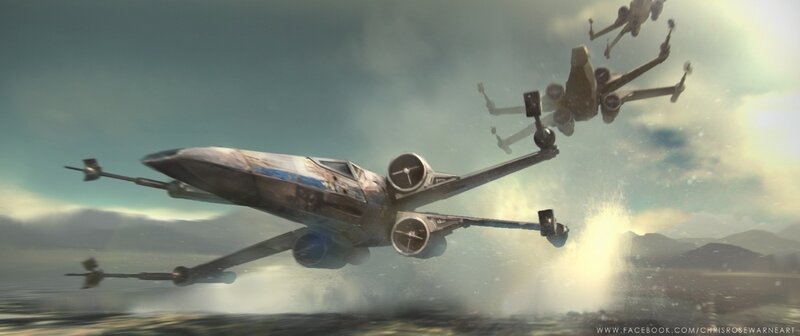 Chris Rosewarne
En prime une image magnifique qui n'est pas dans ce recueil mais sur le site Concept Art World. As a bonus a beautiful image that is not in this collection but on the site Concept Art World.

Emmanuel Shiu.
Et pour finir quelques images du site Industrial Light and Magic, avec des concept art pour Rogue One et The Force Awakens. En particulier un surprenant X-wing biplace. And finally few images from Industrial Light and Magic, with concept art for Rogue One and The Force Awakens. Look at a strange two-seater X-wing.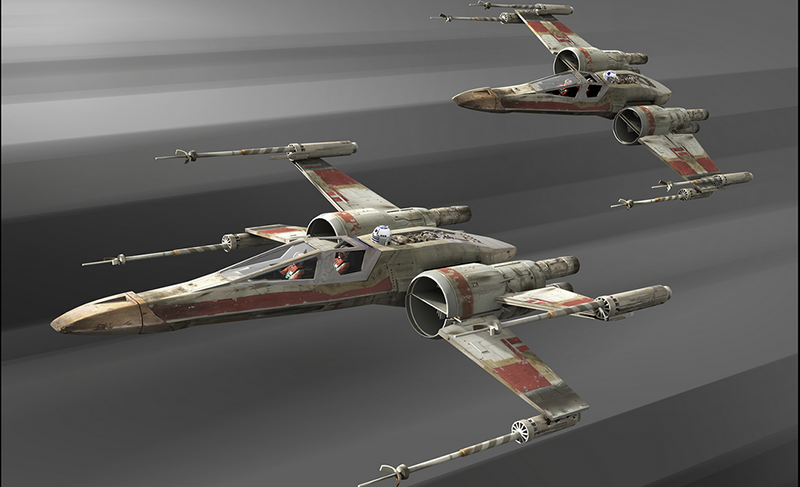 Ryan Church
Que la Force soit avec vous. May the Force be with you.
Enregistrer
Enregistrer
Enregistrer
Enregistrer
08 avril 2017
Aujourd'hui je vais vous parler d'un kits produit dans les années 2000, et considéré comme l'un des kit les plus précis, à l'échelle studio, et souvent désigné sous le nom de X-wing Captain Cardboard. Today I will present you a kit produced in the 2000s, and considered as one of the most studio scale accurate kit, often known as the Captain Cardboard X-wing.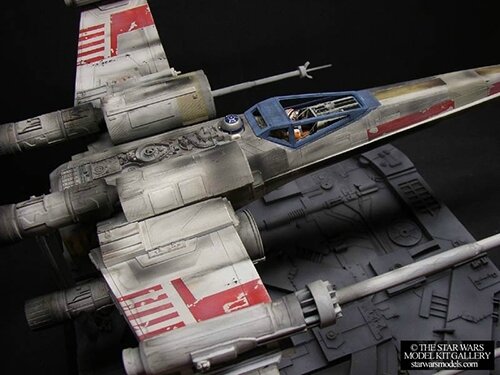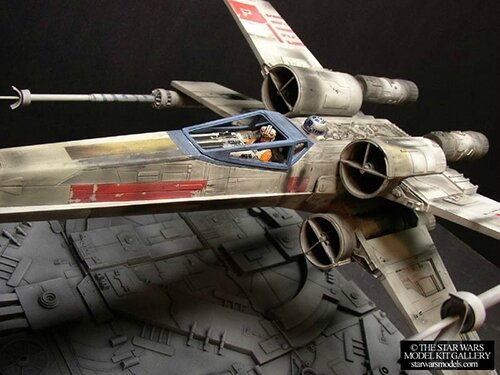 Le modèle que je vais vous présenter n'est pas encore monté, aussi les deux images au dessus, proviennent du site The Model Kit Gallery. The model I am going to present to you is not yet mounted, so the two previous pictures come from The Model Kit Gallery website.
Il s'agit donc d'un kit de Captain Cardboard, Scott Alexander. Il est basé sur un "pyro" original, autrement dit un modèle de tournage ANH fait pour les explosions. Ce modèle était en la possession de Lucas dans son Skywalker Ranch. Il devait être restauré par un ami à Alexander et c'est finalement ce dernier qui s'en est occupé, profitant pour en faire des moulages en vue d'une production artisanale.
Certaines parties sont originales, d'autres ont été refaites et/ou modifiées pour faciliter les moulages. Scott a inclu des tiges de métal laiton dans les ailes pour éviter qu'elles s'affaissent avec le temps (comme c'est le cas du X-Wing Icons). This is a kit of Captain Cardboard, Scott Alexander. It is based on an original "pyro", a shooting pattern made for explosions. This model was in the Skywalker Ranch. It was restored by Alexander, Who made castings for artisanal production.
Some parts are original, others have been redone and / or modified to facilitate castings. Scott has included brass metal rods in the wings to prevent them from sagging over time (as the X-Wing Icons).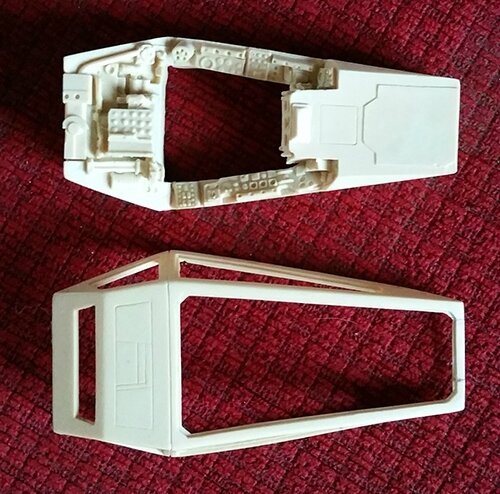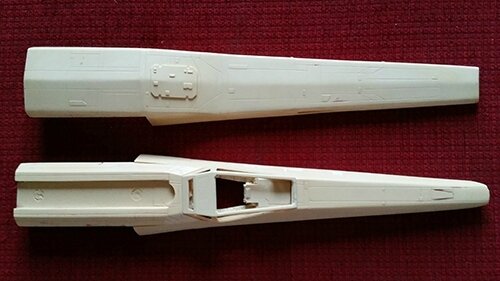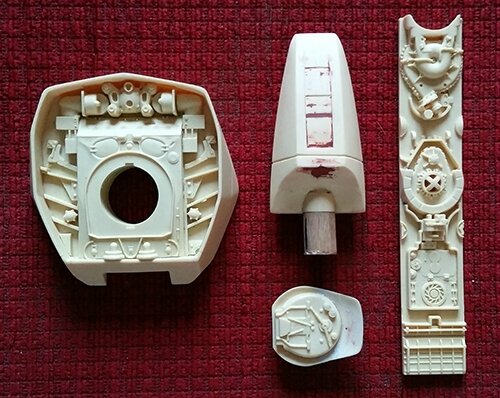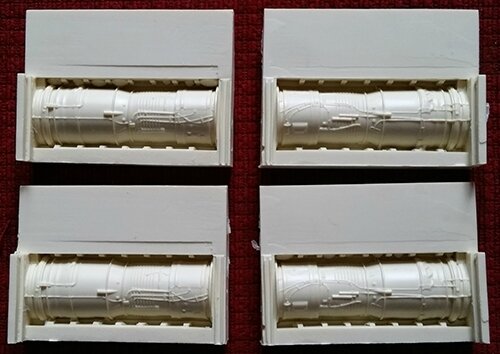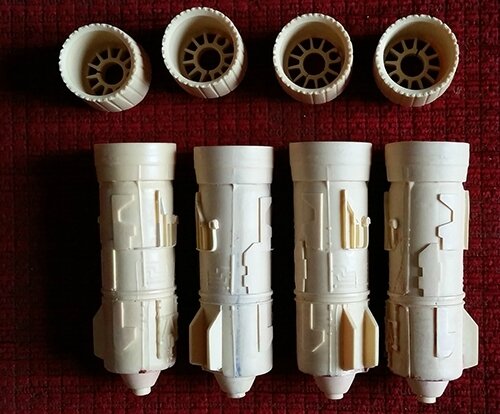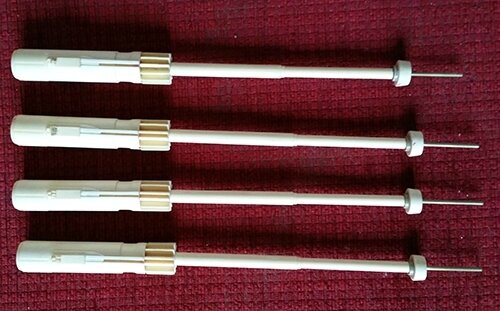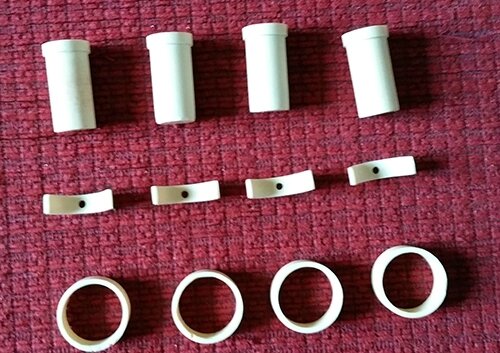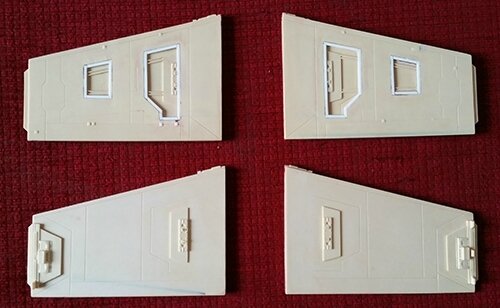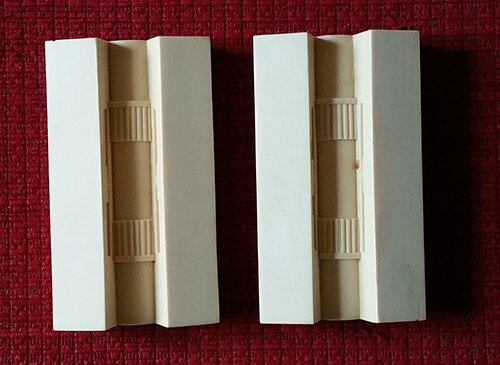 Très recheché, très précis, le modèle n'est pas tout-à-fait screen accurate en ce sens que des détails et les proportions ne sont pas respectés. Mais c'est une belle réplique du modèle de X-Wing, à l'échelle du studio, utilisé pour les effets spéciaux d'ILM. The model is not quite screen accurate because some details and proportions are not respected. But it's a beautiful replica of the X-Wing model, at the scale of the studio used for the special effects of ILM.

Que la Force soit avec vous. May the Force be with You.
05 avril 2017
Mcs Props, sous ce nom se cache un prop maker passionné Sci-Fi, Star Wars, et accessoirement de X-wing. Mcs Props, a prop maker, fan of Sci-fi, Star Wars and X-wing.
Je rappelle que ce blog est également destiné à présenter vos réalisations autour du X-wing, une maquette ou un diorama. N'hésitez donc pas à me contacter, il y aura toujours de la place pour vous. Aujourd'hui je vous présente donc le travail de Mickael "Mcs Props" autour de la version 1/30 ème Revell sortie en 2013. I recall that this blog is also intended to present your makings around the X-wing, a model or a diorama. Do not hesitate to contact me. That place is your place.
Today I present you the work of Mickael "Mcs Props" around the 1/30 Revell version released in 2013.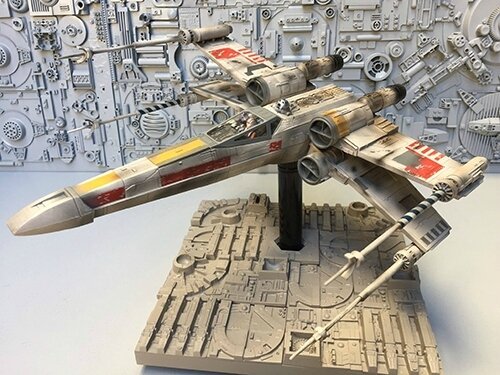 La maquette mesure 43,5 cm de longueur et 39 cm d'envergure. Il s'agit d'un modèle à monter sans colle et déjà peint. Très bien fabriqué, c'est une très bonne base pour un maquettiste. The size of the model is 17,12 inches length and 15,35 inches wide. It's an Easy kit (or Snap kit) without glue and already painted. Very well made, it's a very good base for a model maker.
J'ai déjà parlé de ce kit lors de sa sortie. I already mentioned that kit here.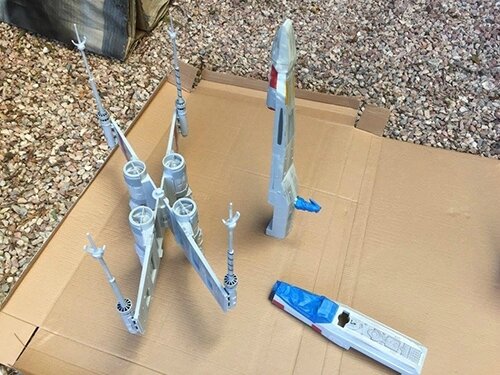 La maquette prête pour la peinture. The model in order to paint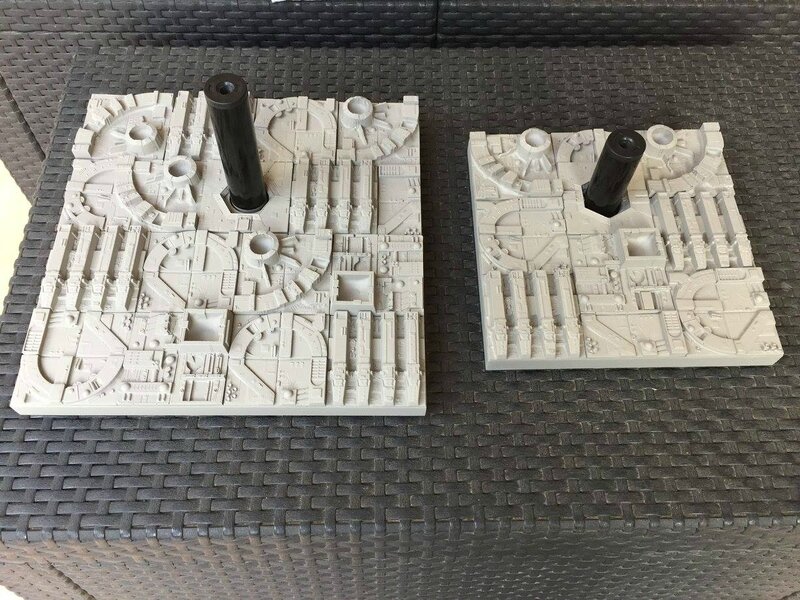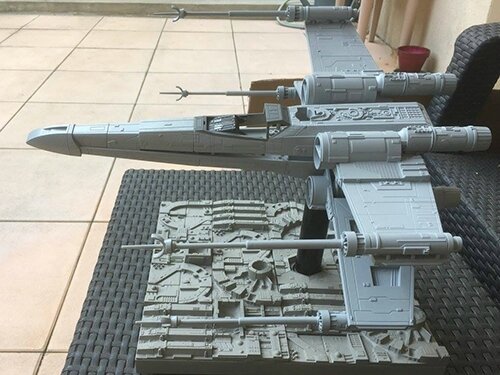 Le stand de l'Etoile Noire est un carré de 22.5cm ou de 30cm de côté. The Death Star stand can be a square of 8.85 inches or 11.8 inches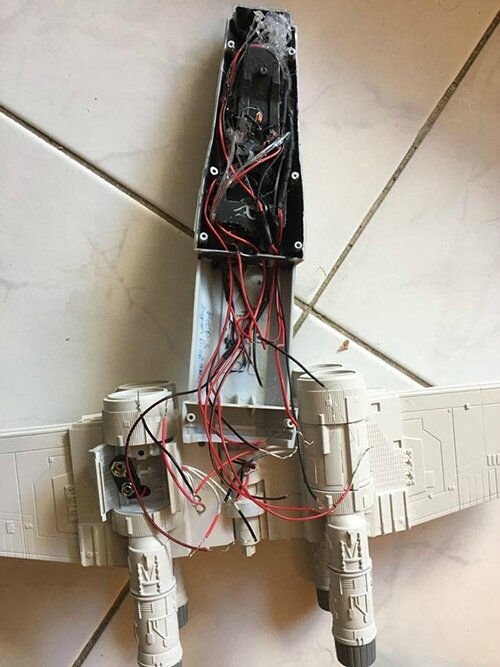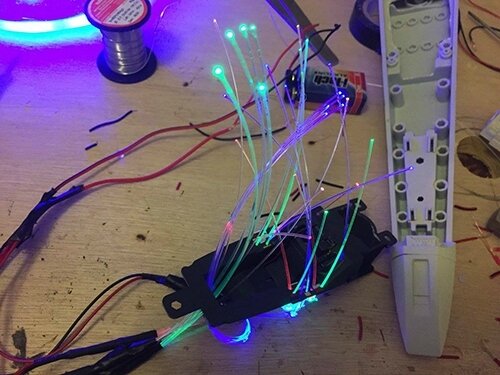 Câblage du vaisseau et installation de la fibre optique dans le cockpit. Wiring the Spaceship inside and add the optic fiber in the cockpit.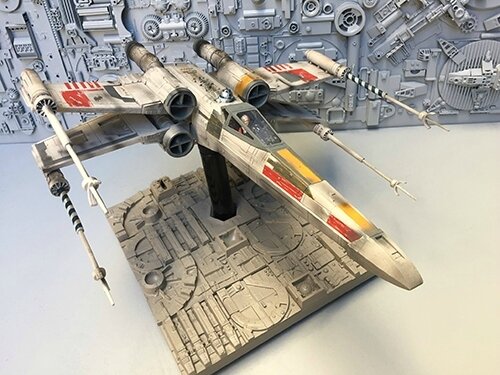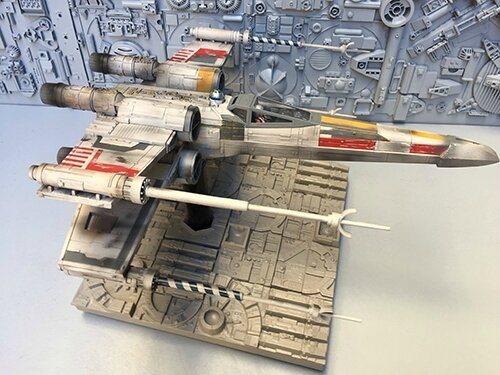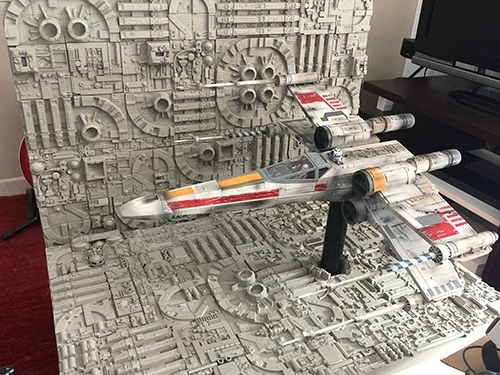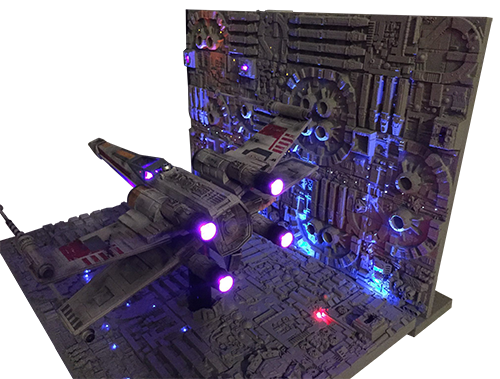 Voici d'autres versions de l'Escadron Rouge. Le Red 2 de Wedge Antilles, le 3 de Biggs Darklignter et celui de Jek Porkins, Red 6. Others versions of the Red Squadron. Wedge Antilles Red 2, Biggs Darklignter Red 3 and Red 6 of Jek Porkins.
Que la Force soit avec vous. May the Force be with you.
Enregistrer
Enregistrer
Enregistrer
Enregistrer
07 mars 2017
Il y eut d'abord le Millenium Falcon. Puis récemment notre astrodroid préféré, R2-D2. De Agostini nous propose aujourd'hui de fabriquer un X-wing, pièce à pièce. First there was the Millennium Falcon. Then recently our favorite astrodroid, R2-D2. De Agostini now proposes an X-wing.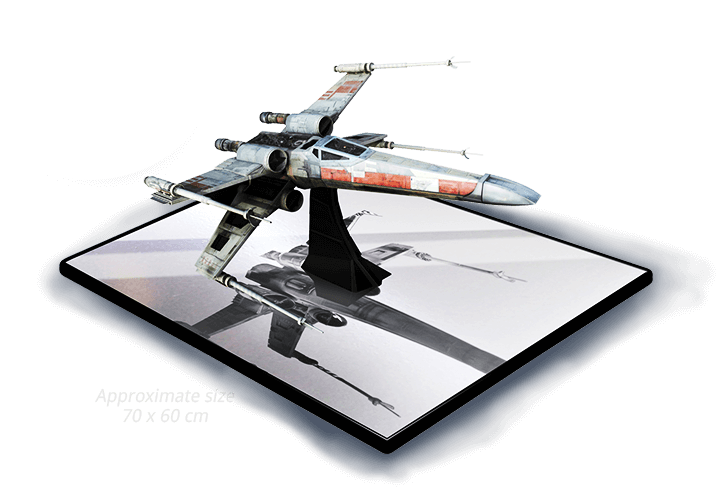 Je vois déjà vos visages réjouis, mais attention, pour l'instant cette offre ne concerne que nos amis anglo-saxons. I already see your smile, but beware, for now this offer is only for our Anglo-Saxon friends.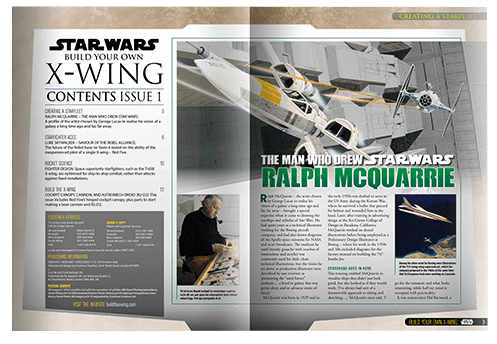 Jetez un coup d'œil à l'intérieur du magazine. Take a look inside the magazine.
Vous construirez cette superbe réplique de chasseur spatial de Luke Skywalker numéro par numéro comme d'habitude. You will build this iconic replica of the original Luke Skywalker's "Red Five" space fighter issue by issue as usual .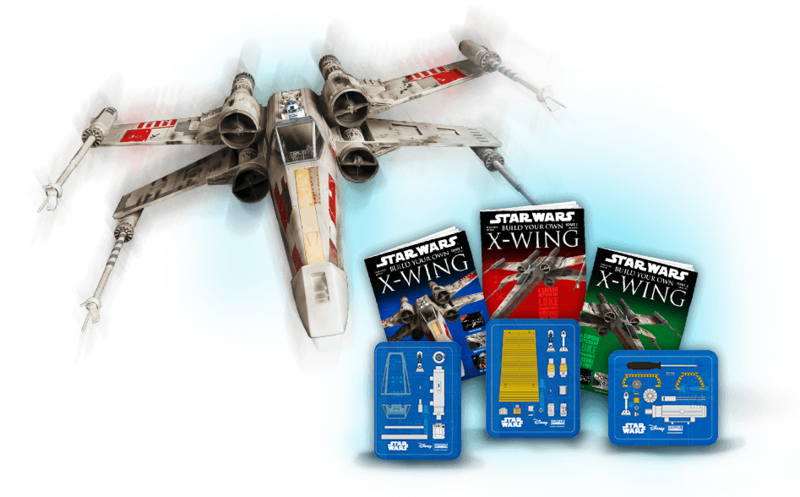 Pour nous autres Français, la sortie devrait se situer cet été, avec un peu de chance. En attendant je vous livre le lien De Agostini qui vous permettra d'en voir un peu plus. Patience. For French people, the release should be this summer, with a little luck. In the meantime take a look on the De Agostini website.
Que la Force soit avec vous. May the Force be with you.
Enregistrer
02 mars 2017
A ce moment de ma collection, je vais en faire l'inventaire. Et je vais donc commencer par les Lego. At this moment of my collection, I will make an inventory of them. So I'll start with the Lego.
Le premier X-wing Fighter Lego acheté, porte la référence 7140. Il est présenté en 1999. Il contient également les figurines Luke Skywalker, R2-D2, Biggs Darklighter, un mécanicien rebelle et un petit train avec des outils. Le même ensemble a été réédité en 2002 sous le numéro 7142 avec les mêmes pièces. The first X-wing Fighter Lego bought, is the number 7140 in 1999. It also features Luke Skywalker, R2-D2, Biggs Darklighter, a rebel mechanic and a small train with tools. The same ensemble was reissued in 2002 with the number 7142 and the same pieces.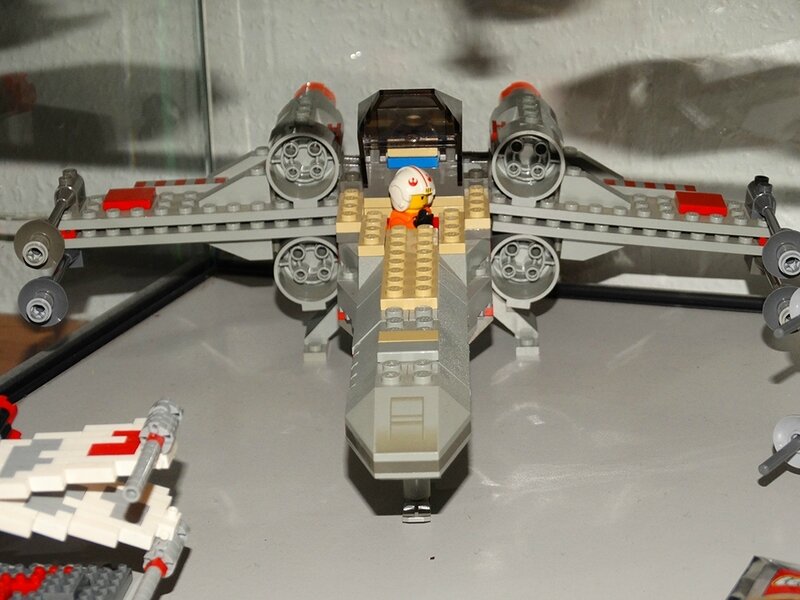 La référence 6212 du X-wing Fighter date de 2006. Il contient six figurines, Luke Skywalker, Wedge Antilles, la Princesse Leia, Han Solo, Chewbacca, R2-D2. The X-wing Fighter reference number 6212 is from 2006. It contains six figures, Luke Skywalker, Wedge Antilles, Princess Leia, Han Solo, Chewbacca, R2-D2.

En 2010, le mini X-wing 30051 était offert dans certaines boutiques. On le retrouve en 2012, dans le set 9677 X-wing Starfighter avec son pilote et la planète Yavin 4. J'en ai trouvé un autre avec un nez plus clair. In 2010, the mini X-wing 30051 was offered in some shops. It is found in 2012, in the set 9677 X-wing Starfighter with its pilot and planet Yavin 4. I found another with a lighter nose.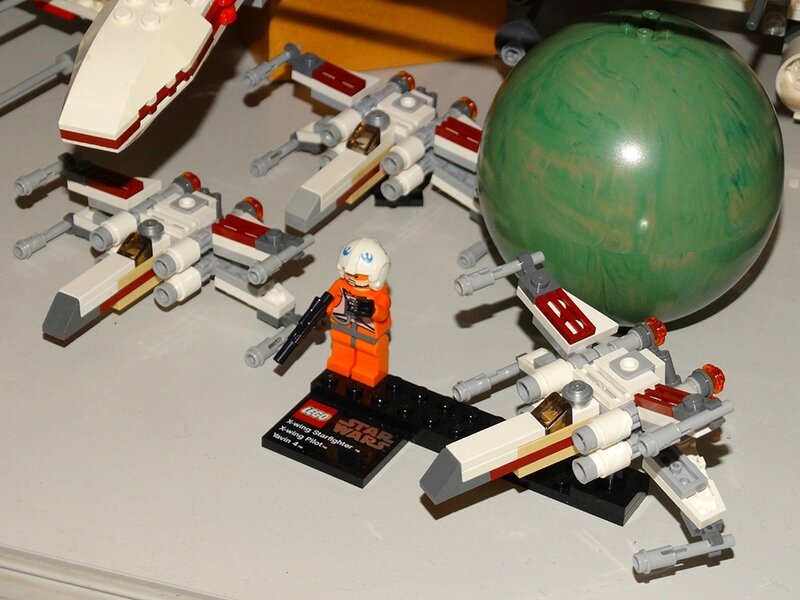 L'année suivante la boite du calendrier de l'avent 7958, contient ce petit X-wing, qu'on retrouve bien plus tard, en 2016, dans un sachet vendu dans une publication Panini. The following year, the box of the advent calendar 7958, contains this little X-wing, which is found much later, in 2016, in a sachet sold in a Panini publication.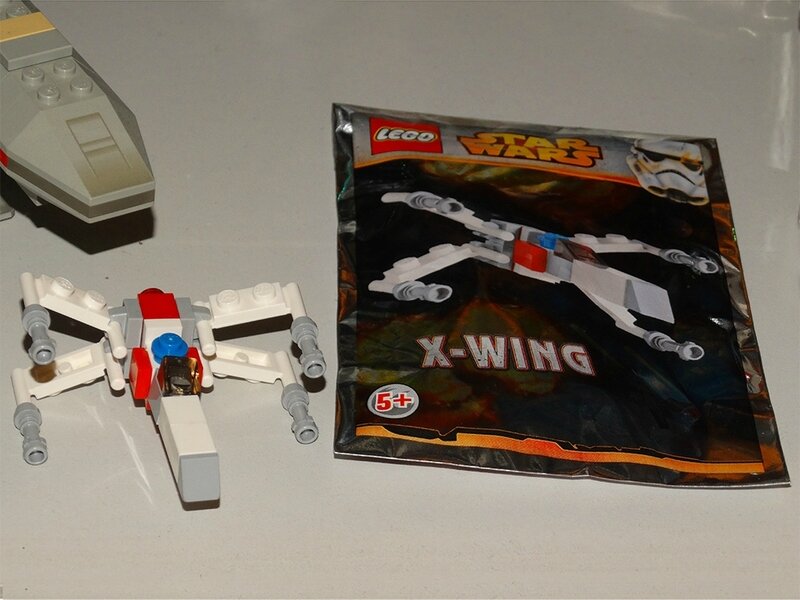 Le X-wing Starfighter référence 9493 est sorti en 2012. Il contient Luke Skywalker, Jek Porkins, R2-D2, R5-D8. J'en possède 2. The X-wing Starfighter reference 9493 is released in 2012. It contains Luke Skywalker, Jek Porkins, R2-D2, R5-D8. I have 2 of them.

La version UCS 10240 du Red Five X-wing Starfighter est sortie en 2013. Il contient seulement R2-D2. Il est bien mieux dessiné que le modèle précédent de l'année 2000, le 7191. Mais celui-ci est bien trop cher aujourd'hui. The UCS 10240 version of the Red Five X-wing Starfighter was released in 2013. It contains only R2-D2. It is much better designed than the previous model of the year 2000, the 7191. But this one is far too expensive today.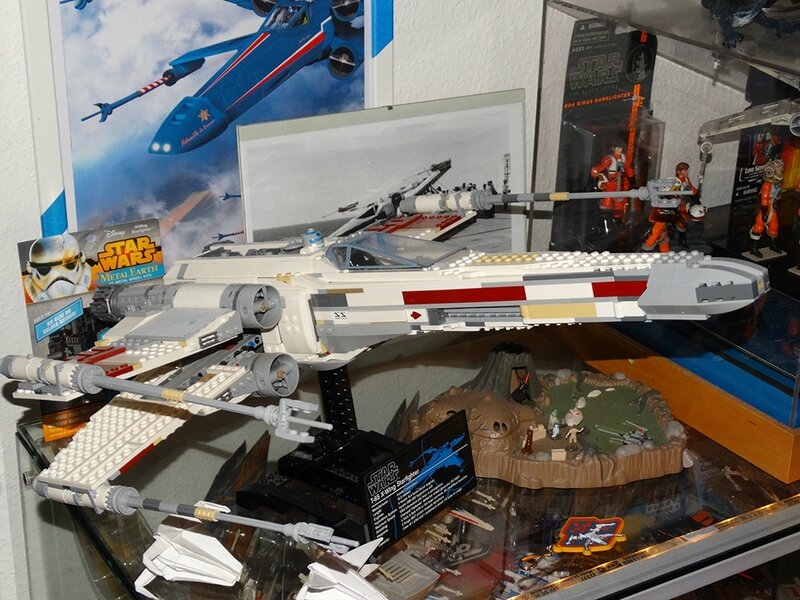 La boite 75032 de 2014 contient le pilote, R2-X2 et un mini véhicule déformé. The box 75032 of 2014 contains the pilot, R2-X2 and a deformed mini vehicle .
En 2015, avec l'Episode VII : Le Réveil de la Force, arrive le premier T-70 sous la référence 75102. La boite renferme le X-wing de Poe, avec Poe Dameron, un autre pilote de X-wing de la Résistance, un mécanicien et bien entendu BB-8. In 2015, for the first T-70 reference 75102 for The Force Awaken, the box contains the X-wing of Poe, with Poe Dameron, another X-wing pilot of the Resistance, a mechanic and of course BB-8.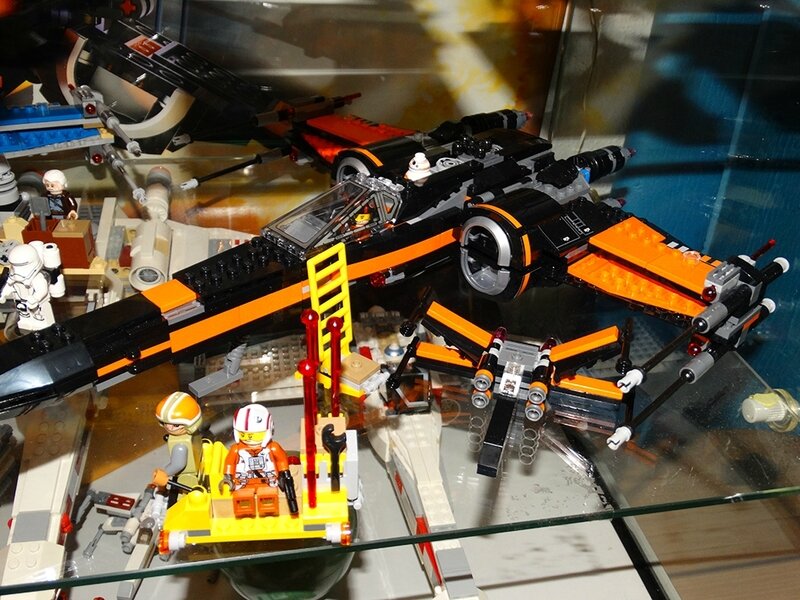 En 2016 deux X-wing. Le grand modèle 75149 de la Résistance est accompagné de Poe Dameron, BB-8, Lor San Tekka et un Flametrooper du Premier Ordre. In 2016 two X-wing. The great model 75149 of the Resistance is accompanied by Poe Dameron, BB-8, Lor San Tekka and a Flametrooper of the First Order. Un second microfighter de la Resistance 75125 avec son pilote. A second microfighter of the Resistance 75125 with its pilot.

Bonus : entre le 3 et le 31 janvier 2016, pour un minimum de 55 euros d'achat Star Wars en France, Lego offrait un petit sachet de la version Poe Dameron sous le numéro 30278. Mais il a été épuisé très rapidement. J'ai eu la chance d'en acheter un dans un magasin Fnac qui n'avait pas compris et le vendait tout seul. Between the 3rd and the 31st of January 2016, for a minimum of 55 euros of purchase Star Wars in France, Lego offered a small sachet of the Poe Dameron version under number 30278. But it was exhausted very quickly. I was lucky enough to buy one at a Fnac store that did not understand and sold it on its own.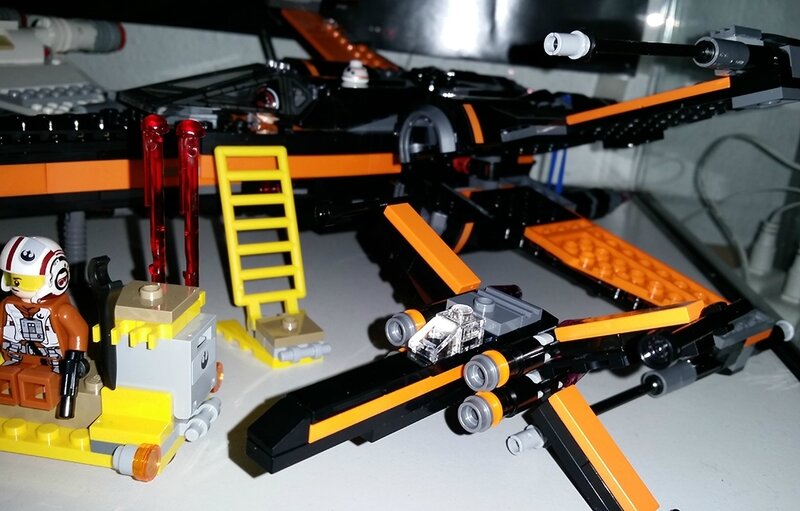 Pour clore cette première partie de la collection consacrée aux Lego, j'ai une petite PLV de la version 2012, ainsi qu'une autre du X-wing de Poe. To close this first part of the collection dedicated to Lego, I have a small poster of the 2012 version, and one of the X-wing of Poe.
Vous pouvez retrouver tous les sujets Lego du Blog du X-wing, sur l'accueil de cette catégorie. You can find all the Lego topics of the X-wing Blog, on this category.
Ce n'est pas un Lego, mais un X-wing de la marque Miniblocks. Peu ressemblant il est difficile à monter, mais cela reste un X-wing de briques. This is not a Lego, but an X-wing of the Miniblocks brand. Little resembling it is difficult to mount, but it is an X-wing in bricks.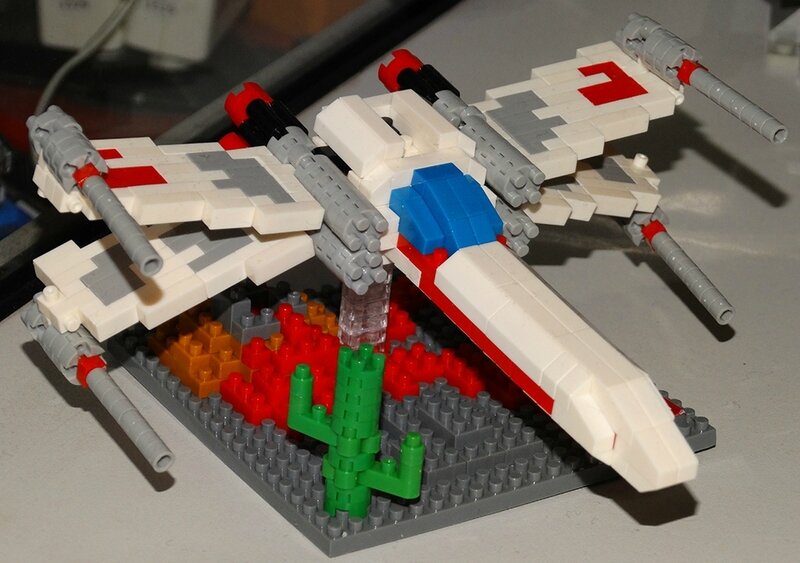 Que la Force soit avec vous, May the Force be with you.
Enregistrer
Enregistrer
Enregistrer