A ce moment de ma collection, je vais en faire l'inventaire. Et je vais donc commencer par les Lego. At this moment of my collection, I will make an inventory of them. So I'll start with the Lego.
Le premier X-wing Fighter Lego acheté, porte la référence 7140. Il est présenté en 1999. Il contient également les figurines Luke Skywalker, R2-D2, Biggs Darklighter, un mécanicien rebelle et un petit train avec des outils. Le même ensemble a été réédité en 2002 sous le numéro 7142 avec les mêmes pièces. The first X-wing Fighter Lego bought, is the number 7140 in 1999. It also features Luke Skywalker, R2-D2, Biggs Darklighter, a rebel mechanic and a small train with tools. The same ensemble was reissued in 2002 with the number 7142 and the same pieces.
La référence 6212 du X-wing Fighter date de 2006. Il contient six figurines, Luke Skywalker, Wedge Antilles, la Princesse Leia, Han Solo, Chewbacca, R2-D2. The X-wing Fighter reference number 6212 is from 2006. It contains six figures, Luke Skywalker, Wedge Antilles, Princess Leia, Han Solo, Chewbacca, R2-D2.

En 2010, le mini X-wing 30051 était offert dans certaines boutiques. On le retrouve en 2012, dans le set 9677 X-wing Starfighter avec son pilote et la planète Yavin 4. J'en ai trouvé un autre avec un nez plus clair. In 2010, the mini X-wing 30051 was offered in some shops. It is found in 2012, in the set 9677 X-wing Starfighter with its pilot and planet Yavin 4. I found another with a lighter nose.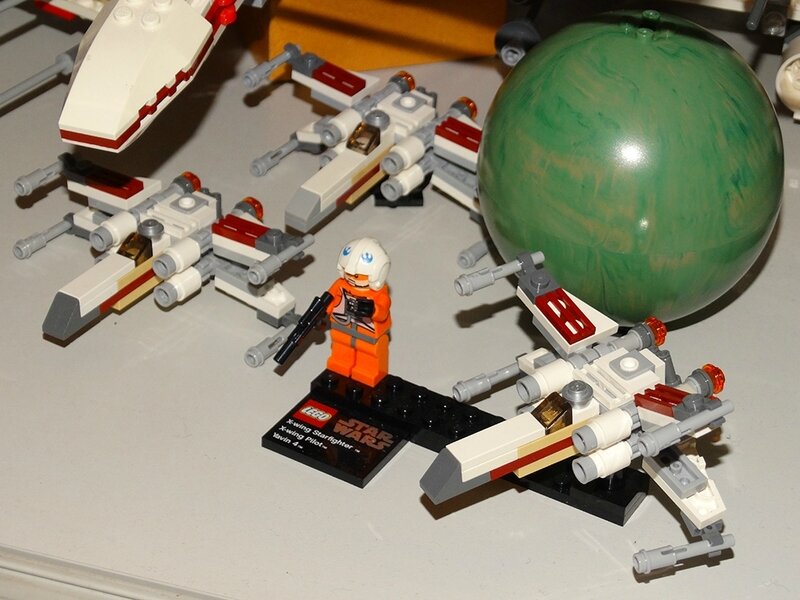 L'année suivante la boite du calendrier de l'avent 7958, contient ce petit X-wing, qu'on retrouve bien plus tard, en 2016, dans un sachet vendu dans une publication Panini. The following year, the box of the advent calendar 7958, contains this little X-wing, which is found much later, in 2016, in a sachet sold in a Panini publication.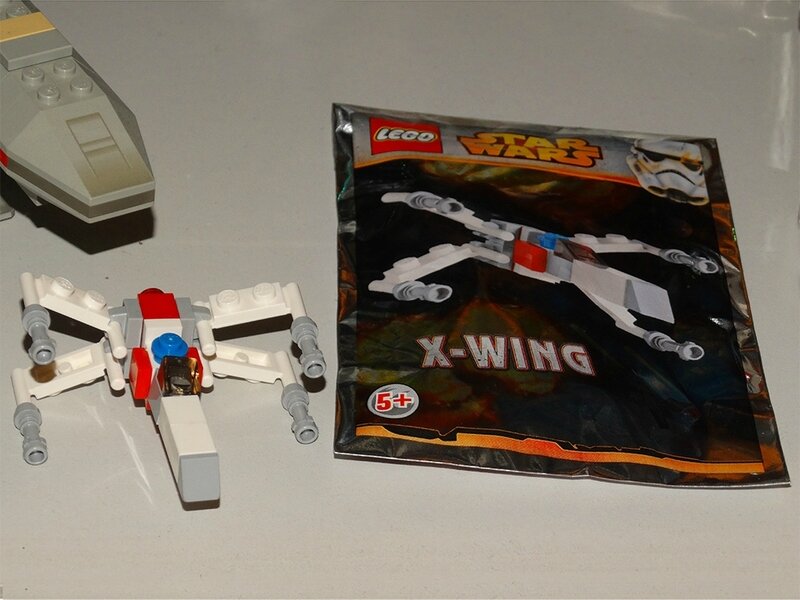 Le X-wing Starfighter référence 9493 est sorti en 2012. Il contient Luke Skywalker, Jek Porkins, R2-D2, R5-D8. J'en possède 2. The X-wing Starfighter reference 9493 is released in 2012. It contains Luke Skywalker, Jek Porkins, R2-D2, R5-D8. I have 2 of them.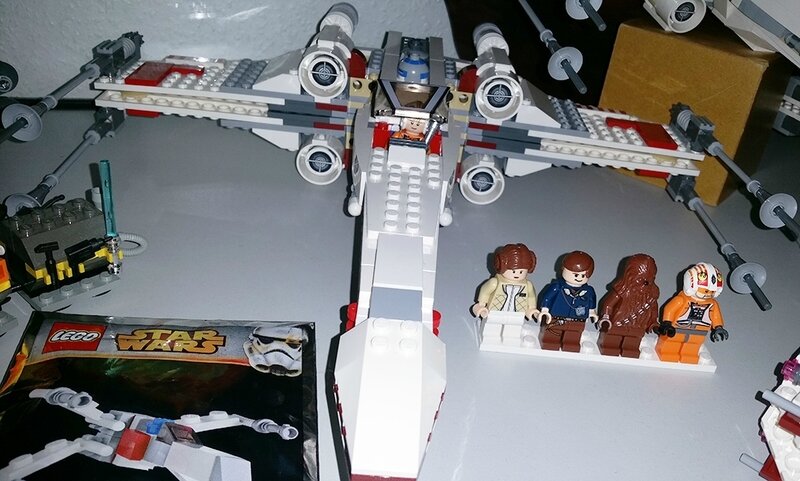 La version UCS 10240 du Red Five X-wing Starfighter est sortie en 2013. Il contient seulement R2-D2. Il est bien mieux dessiné que le modèle précédent de l'année 2000, le 7191. Mais celui-ci est bien trop cher aujourd'hui. The UCS 10240 version of the Red Five X-wing Starfighter was released in 2013. It contains only R2-D2. It is much better designed than the previous model of the year 2000, the 7191. But this one is far too expensive today.

La boite 75032 de 2014 contient le pilote, R2-X2 et un mini véhicule déformé. The box 75032 of 2014 contains the pilot, R2-X2 and a deformed mini vehicle .
En 2015, avec l'Episode VII : Le Réveil de la Force, arrive le premier T-70 sous la référence 75102. La boite renferme le X-wing de Poe, avec Poe Dameron, un autre pilote de X-wing de la Résistance, un mécanicien et bien entendu BB-8. In 2015, for the first T-70 reference 75102 for The Force Awaken, the box contains the X-wing of Poe, with Poe Dameron, another X-wing pilot of the Resistance, a mechanic and of course BB-8.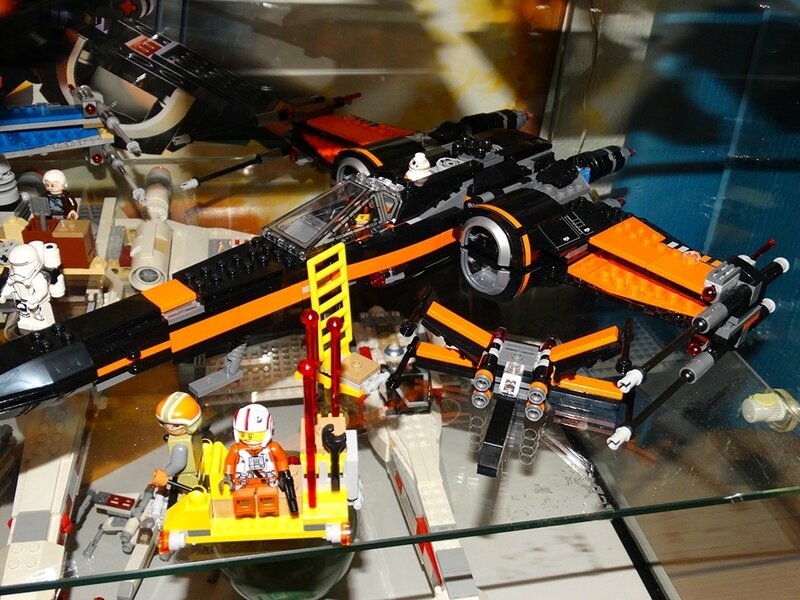 En 2016 deux X-wing. Le grand modèle 75149 de la Résistance est accompagné de Poe Dameron, BB-8, Lor San Tekka et un Flametrooper du Premier Ordre. In 2016 two X-wing. The great model 75149 of the Resistance is accompanied by Poe Dameron, BB-8, Lor San Tekka and a Flametrooper of the First Order. Un second microfighter de la Resistance 75125 avec son pilote. A second microfighter of the Resistance 75125 with its pilot.

Bonus : entre le 3 et le 31 janvier 2016, pour un minimum de 55 euros d'achat Star Wars en France, Lego offrait un petit sachet de la version Poe Dameron sous le numéro 30278. Mais il a été épuisé très rapidement. J'ai eu la chance d'en acheter un dans un magasin Fnac qui n'avait pas compris et le vendait tout seul. Between the 3rd and the 31st of January 2016, for a minimum of 55 euros of purchase Star Wars in France, Lego offered a small sachet of the Poe Dameron version under number 30278. But it was exhausted very quickly. I was lucky enough to buy one at a Fnac store that did not understand and sold it on its own.


Pour clore cette première partie de la collection consacrée aux Lego, j'ai une petite PLV de la version 2012, ainsi qu'une autre du X-wing de Poe. To close this first part of the collection dedicated to Lego, I have a small poster of the 2012 version, and one of the X-wing of Poe.
Vous pouvez retrouver tous les sujets Lego du Blog du X-wing, sur l'accueil de cette catégorie. You can find all the Lego topics of the X-wing Blog, on this category.
Ce n'est pas un Lego, mais un X-wing de la marque Miniblocks. Peu ressemblant il est difficile à monter, mais cela reste un X-wing de briques. This is not a Lego, but an X-wing of the Miniblocks brand. Little resembling it is difficult to mount, but it is an X-wing in bricks.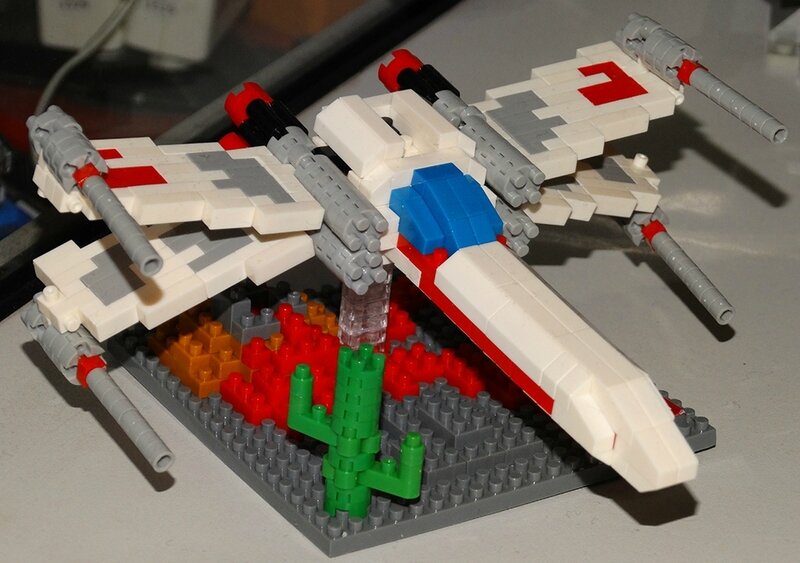 Que la Force soit avec vous, May the Force be with you.
Enregistrer
Enregistrer
Enregistrer